Barcode Guide
UPC-A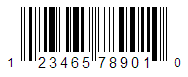 Universal Product Code (UPC) was initially developed in the 1970s for use by the US grocery industry, and its use has spread into other retail marketplaces in the US and internationally.
UPC-A is a subset of the European Article Numbering (EAN) system, which means that any system that can read EAN/JAN-13 can also read UPC-A. A UPC-A symbol that is created in the United States can be transformed into an EAN-13 symbol by prefixing it with a zero.
UPC-A is defined in ISO/IEC 15420 Information technology - Automatic identification and data capture techniques - EAN/UPC bar code symbology specification. The GS1 implementation is defined in GS1 General Specifications.